Mastering the New Clay DVDs: Beads and Bead Shapes, with Tory Hughes
$

24.00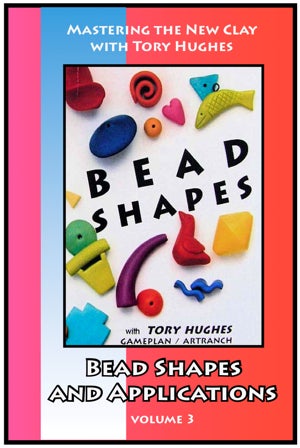 Fourth in the series of fifteen!
DVD reissue of classic Tory Hughes videos, the first videos to teach polymer clay techniques.
"Fifteen different instructional polymer videos. Information-rich and engaging. If you can't take a Tory Hughes workshop in person, these videos are the next best thing!"
- Robert Liu, Ornament Magazine
Mastering the New Clay
Bead Shapes with Polymer Clays
Invent your own bead shapes! Make beads from any idea and object! Make beads that accomodate multiple strands of smaller beads!
This tape shows how to form a huge variety of bead shapes, and ideas for further variations.
There are examples of different shapes in assembled necklaces as well.
- Start with basic shapes done well. Understand how to create a variety of simple elegant shapes so you will never be at a loss for different approaches to a polymer bead form!
- Then learn to modify and vary them into dozens of alternatives.
organic shapes
geometric shapes
simple shapes
repeating shapes
shapes that will carry the eye along your necklace
shapes that will punctuate your necklace
- Create multi-holed beads to accommodate several strands of beads at once!
Expand the possibitilies of your jewelry work
- Learn to to incorporate these different shapes into your jewelry
- And a bonus> Also a great 'quick trick' for heart-shaped beads.
Supplemental materials: a list of materials and tools
86 minutes
If you haven't experienced polymer clays, or if you think polymer does just one thing, start here and expand your mind! The only limitation in polymer is your own imagination, and you have plenty of that-
> email me with questions: victoria@toryhughes.com
Ronna Weltman, award-winning artist and author, says
"Tory Hughes' DVD series will not simply get you started with polymer clay, it will give you all the tricks and techniques you need to be an accomplished polymer clay artist. The series is as relevant today as it was when they were made over a decade ago.
"Hughes goes beyond tricks and techniques, however, to empower the viewer to "think in polymer." Her engaging personality and delightful sense of humor make this series the most effective mini-art school education one could ever hope to get (at a fraction of the price and right in your own home!)"
Share