Mastering the New Clay DVDs: Complete Set of Fifteen
$

320.00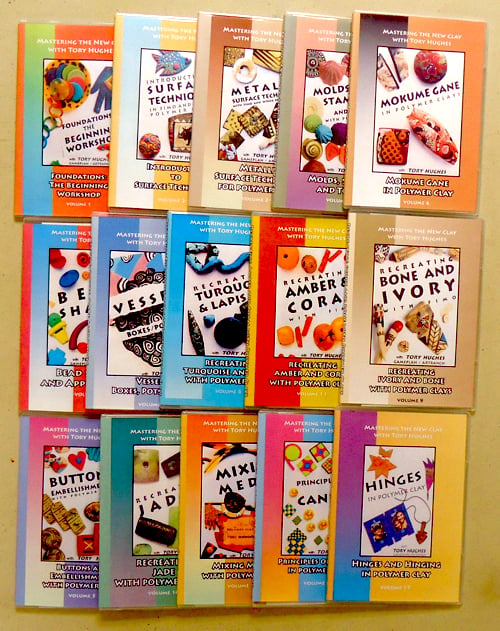 Includes all fifteen videos in this classic series, at a discounted price of $320 for the set.
-Each is about 90 minutes long: you'll get over 22 hours of instruction from Tory, the equivalent of a four-day class, when you get the complete set.
-Each is designed independently: you can watch each on its own, or view them in sequence.
-Each also comes with a tools and materials card, and often extras: photocopy transfers, patterns, workbooks and more!

Ronna Sarvas Weltman reviewed them and has this to say:
"Tory Hughes' DVD series will not simply get you started with polymer clay, it will give you all the tricks and techniques you need to be an accomplished polymer clay artist. The series is as relevant today as it was when they were made over a decade ago.
"Hughes goes beyond tricks and techniques, however, to empower the viewer to "think in polymer." Her engaging personality and delightful sense of humor make this series the most effective mini-art school education one could ever hope to get (at a fraction of the price and right in your own home!)"
You'll receive:
• Foundations in Polymer Clay
• Introduction to Surface Techniques
• Metallic Surface Techniques
• Beads and Bead Shapes
• Molds, Stamps and Tools
• Vessels: Pots, Boxes and Bowls
• Mokume Gane
• Recreating Ivory and Bone
• Recreating Turquoise and Lapis
• Recreating Jade
• Recreating Amber and Coral
• Fundamentals of Caning
• Buttons and Embellishments
• Mixing Media with Polymer
• HInges and Hinging in Polymer
Read what a couple of happy customers say:
" I just finished watching the first three I bought from you and they are TERRIFIC!! I can't wait to try some of those techniques this weekend. Thanks for making such great DVDs: they were easy to follow
and understand. I've recommended you & your DVD's to several of my friends who are just starting out in PC.
And thanks so much for your awesome customer service!" Robyn, WA
"Tory, I love the classes on DVDs ! So much information down to the little details that you just can't get reading in a book, details I was missing and many I didn't even know about.
You're a delightful person in your videos: you bring everything together for a great enjoyable learning experience and they wouldn't be the same without you!
Thank you so much for the time you took in making them- they have made a big difference for me. Look forward to seeing the rest of the classes!" Patricia, CO
Share