Mastering the New Clay DVDs: Introduction to Caning Techniques in Polymer Clays with Tory Hughes
$

24.00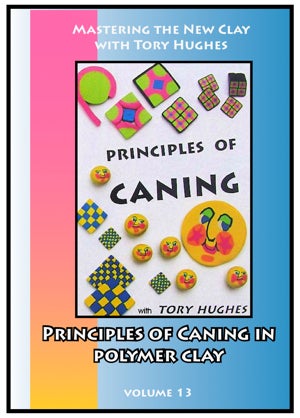 Fourteenth in the series of fifteen!
DVD reissue of classic Tory Hughes videos, the first videos to teach polymer clay techniques.
"Fifteen different instructional polymer videos. Information-rich and engaging. If you can't take a Tory Hughes workshop in person, these videos are the next best thing!"
- Robert Liu, Ornament Magazine
Mastering the New Clay:
Principles of Caning in Polymer
Learn how they make those teensy patterns and pictures in their jewelry!
Let go of being intimidated by caning, and enjoy Tory's easy and clear teaching style!
All you need to create those intricate repeating designs in polymer, to use for jewelry and other objects.
This fascinating process is called caning or millefiore .
- Learn to make several canes:
two different spirals,
a checkerboard,
a stained-glass window,
a star
a face.
- Final projects include earrings, button covers, pins and plenty of finished canes to use in your future work.
Supplemental materials list enclosed,
and two design patterns to use to create canes of polymer.
85 minutes
If you haven't experienced polymer clays, or if you think polymer does just one thing, start here and expand your mind! The only limitation in polymer is your own imagination, and you have plenty of that-
> email me with questions: victoria@toryhughes.com
Ronna Weltman, award-winning artist and author, says
"Tory Hughes' DVD series will not simply get you started with polymer clay, it will give you all the tricks and techniques you need to be an accomplished polymer clay artist. The series is as relevant today as it was when they were made over a decade ago.
"Hughes goes beyond tricks and techniques, however, to empower the viewer to "think in polymer." Her engaging personality and delightful sense of humor make this series the most effective mini-art school education one could ever hope to get (at a fraction of the price and right in your own home!)"
Share