MP4: "Introduction to Surface Techniques" Mastering the New Clay DVD volume 2a
$

19.00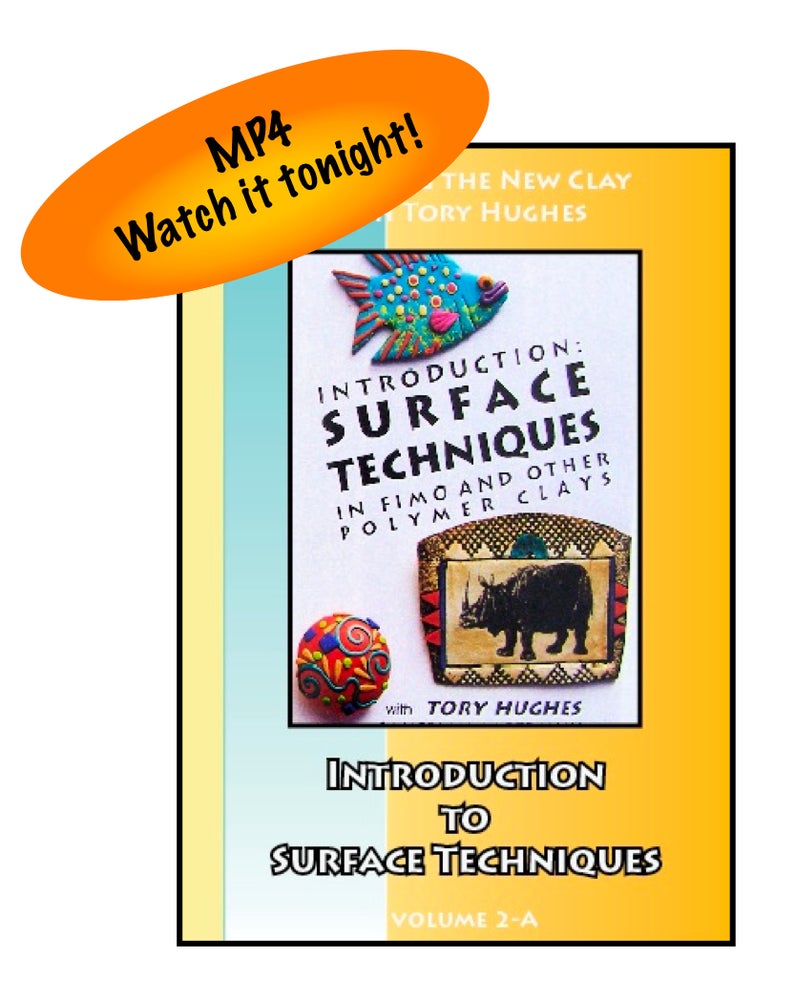 Through the miracle of tiny electrons and photons, Tory can teach you Introduction to Surface Techniques this afternoon! 

As soon as we are notified of your payment, 
we'll email you the link for the video.

Click, load, and watch.

Easy!
> ABOUT THIS MP4 
- Classic DVD "Introduction to Surface Techniques In Polymer Clays", from the ever-popular "Mastering the New Clay with Tory Hughes" video series. For more about this DVD, please go to the Intro to Surface Techniquee DVD page.
Please print out the four text pages you see in the images here: these are the enclosures that come in the box when you purchase the DVD. The workbook and photo-transfer are only available with the DVD, but you can improvise with a sketchbook and any photocopy: not a laser or inkjet.
• Materials list 

• Tools lists

• Basic information card about polyme

• Very important first card: "Please use good studio practices, we aren't responsible for things that happen to you by watching and following this instructional video!" Necessary, thank you!
> ABOUT INTRODUCTION TO SURFACE TECHNIQUES 
-
This DVD introduces a rich sampling of surface effects for jewelry and objects.
This is Tory's original version of these processes. She encourages you to experiment and take your work further. 
Images and textures galore!
- Learn flecking,
texturing,
embossing,
applique,
prebaked inlay,
photocopy transfer,
and the use of paint.
- Finish this class with two completed pieces
- Compile a workbook of design samples for your ongoing work
- Supplemental materials enclosed:
materials and tools list
77 minutes
> ABOUT BAKING TEMPERATURES 
- Manufacturers often change their polymer formulas. 
Follow the baking temperatures on the package you purchase, NOT what I say on the video, until you've done some experimentation.
Share