MP4: "Metallic Surface Techniques" Mastering the New Clay DVD volume 2b
$

19.00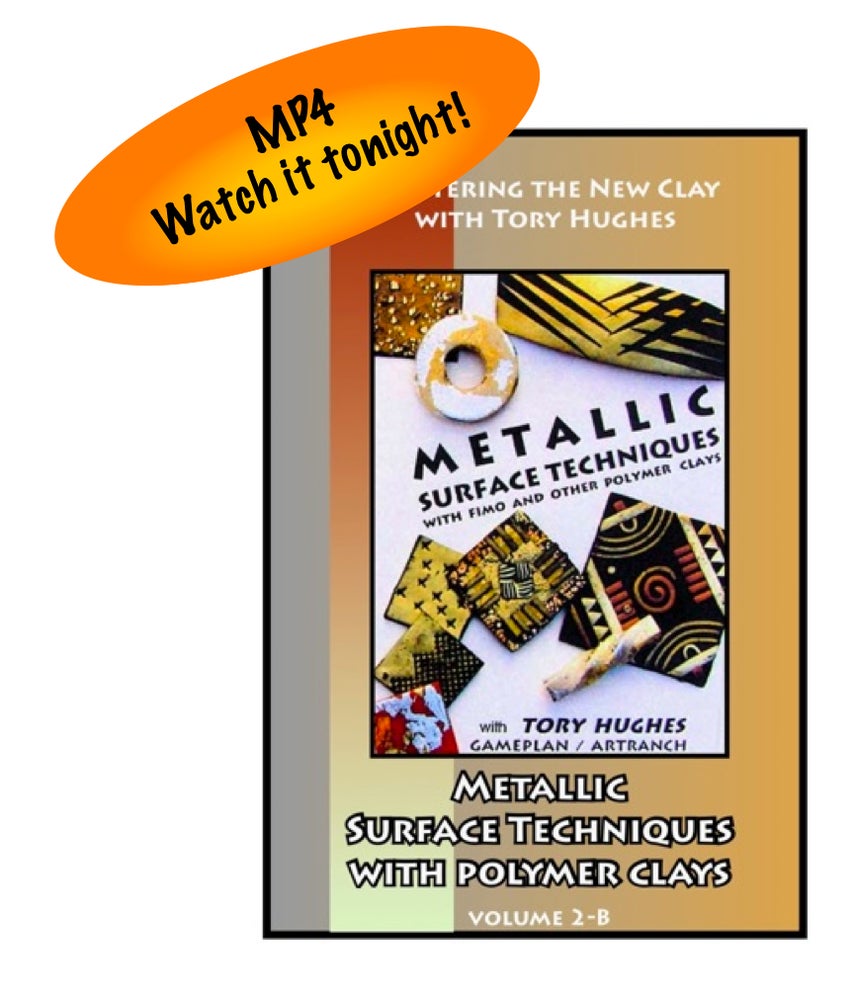 We're tickled pink to finally be able to offer you these. For our participants outside the US, this may be your best way to take this workshop. Here, Tory teaches you Metallic Surface Techniques this afternoon!

As soon as we are notified of your payment, 
we'll email you the link for the video. 

Click, load, and watch. 

Easy!
> ABOUT THIS MP4
Classic DVD "Metallic Surface Techniques In Polymer Clays", from the ever-popular "Mastering the New Clay with Tory Hughes" video series.
For more about this DVD, please go to the Metallic Surfaces DVD page.
Please print out the four text pages you see in the images here:
these are the enclosures that come in the box when you purchase the DVD. 

• Materials list 

• Tools lists 

• Basic information card about polymer

• Very important first card: "Please use good studio practices, we aren't responsible for things that happen to you by watching and following this instructional video!" Necessary, thank you!
Workbooks, transfers and patterns for all videos are only available when you purchase an actual DVD.
> ABOUT METALLIC SURFACE TECHNIQUES

- This DVD includes all you'll need to understand this technique and start to personalize it. This is Tory's original version of these processes. Create beautiful surfaces using metallic foils and powders!
This video will entice and seduce with lovely surface effects and lots of ideas for you
- Learn to use composite metal foils and leaf,
texturing and embossing with metallic powders,
metallicized applique,
and stenciling with metallic powders.
- Your finished pieces will include:
a four-bead necklace,
a barrette,
a paperweight.
- You'll also create a workbook of unique design examples for your studio!
- Combine these approaches to personalize your esthetic.
Supplemental materials are enclosed,
including materials list and artist's workbook for your samples.
80 minutes
> ABOUT BAKING TEMPERATURES

- Manufacturers often change their polymer formulas.

Follow the baking temperatures on the package you purchase, NOT what I say on the video, until you've done some experimentation.
Share