Polymer the Chameleon Clay: ArtRanch Techniques for Recreating Natural Materials
$

20.00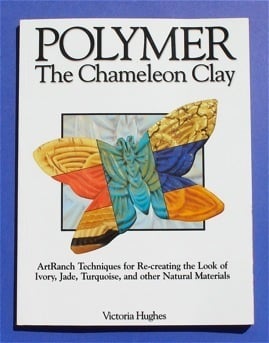 The original and acclaimed book about polymer clay imitative techniques, written by their inventor, Tory Hughes.
This book also includes plenty of basic information about polymer,
and suggestions for expanding your creative process.
Please note, we also offer a Collectors' Edition of this book that includes six actual finished beads in different techniques, as well as baked sample cards that will help you make sure your oven is the right temperature, and that your recreations of ivory are properly done. All finished pieces are made by Tory, by hand, in her Santa Fe studio.
REVIEWS
"Tory, 'Polymer, the Chameleon Clay' should be THE first book newbies buy.
You know what I love about it? You write for the grown-ups.
You don't dumb it down, you explain technical aspects that most books ignore, you are clear and practical, the photos are terrific and inspiring, and you're accessible and not intimidating.
The basics are worth pure gold." —- Sidney O, Phoenix AZ
Details:
POLYMER, THE CHAMELEON CLAY:
ArtRanch Techniques for Recreating Natural Materials
144 pps.
Abundant color photographs
B/W diagrams and illustrations
Overview of the material and processes
Specifics of imitative techniques
Fifteen projects
Gallery section of various artists' work
Templates and resources
"An experienced teacher, Tory' Hughes' videos and courses at ArtRanch, and past articles in Ornament, are as much a lesson in life as in making art. Both philosophy and techniques are clear and well-blended in this volume, offering a vicarious taste of this talented author's teaching style"
-Robert Liu, Ornament Magazine, 2007: "Publication Reviews"
Two versions of Polymer, the Chameleon Clay are now available:
$15.00 for this lovely print book: details below
$40.00 for the Collectors' Edition: Polymer, the Chameleon Clay
autographed and in 3-D! You'll get your own collection of real Tory Hughes Imitative beads and properly finished examples to educate and inspire you:
This special edition includes finished examples of the imitative techniques from Tory, inventor and primary teacher of the imitative techniques.
The Collectors' Edition also includes samples of properly baked translucent, to verify with yours and help you bake the polymer into its most beautiful and sturdy state.
Table of Contents
Chapter 1: BEFORE YOU BEGIN
A word about Making Things
A Word about Color
A Word about Variation
Chapter 2: IMITATIVE TECHNIQUES IN POLYMER CLAY
A Perceptual Exercise
Color
Translucency
Surface
Patina

Chapter 3: MATERIALS AND TOOLS
Materials
Tools
Chapter 4: FOUNDATION PROCESSES
Prebaked Processes
Clay Body as Stock
General Guidelines for working with Polymer Clay Products
Condtioning the Clay
Making Clay Bodies
Understanding Opacity and Translucency
Mixing Opacities and Translucencies
Storing Mixed Clay Bodies
Using a Food Processor
Flattening Polymer with a Glass
Flattening Polymer with a Pasta Machine
Feathering to Blend Colors and Attach Clays
Metallic Powders and Paints
Working with Wire, Decoratively and Functionally
Embossing
Using a Release Agent or Mold Release
Making and Using Molds
Baking and Rebaking
Prebaked Inlays
Prebaked Checkerboard Canes for Inlays
Postbaked Processes
Hand Sanding
Texturing, Scribing, Scratching, Marking and Cutting
Carving
Drilling
Paints for Antiquing, Coloring, and Metallicizing the Surface
Buffing or Polishing
Gluing Polymer and Mixed Media
Lacquering Polymer Clay
Having Fun
Chapter 5: Introductory Projects
Imitating Turquoise
Turquoise Beads
Imitating Lapis
Lapis Lazuli Bird Earrings
Imitating Jade
Three-color Jade Bowl
Imitating Coral
Coral Bead Necklace
Imitating Amber
Amber Beads
Imitating Ivory
Ivory Heart Brooch
Imitating Agate
Banded Agate Dish
Imitating Metals
Silver Spirals Picture Frame
Imitating Faience
Footed Faience Bowl
Chapter 6: Intermediate Projects
Lapis and Ivory Accordian Book
Inlaid Turquoise Clock
Inlaid Ivory Tusk Pendant with Coral and Lapis
Jade Ginko Leaf Necklace
Inlaid Silver Frame
Agate and Gold Earrings
Includes additional materails: patterns for pieces, and resource pages.
Share