Polymer, the Chameleon Clay Collectors' Edition!
$

90.00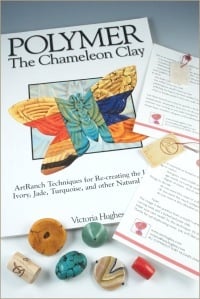 Are you serious about your polymer work? About learning from the original master of the medium? About finding your own connection to this potent and exhilarating medium?
This may be the right edition for you!
Polymer, The Chameleon Clay Collectors' Edition will take you through a foundations section, to anchor your knowledge of polymer. Then Tory teaches you through a series of hands-on exercises. You'll make things like a translucent agate bowl, and a strand of vermillion coral beads. More importantly, Tory's teaching style will welcome you to the world of your own creative delights, and you'll learn to personalize polymer.
• The original Chameleon Clay book, signed to you if you request, comes with baked examples, made by Tory Hughes, inventor of these techniques.
• A selection of six of Tory's well-known polymer Imitative beads: lapis, amber, turquoise, agate, and two more. Tory chooses each collection specially. This is the ONLY way to get individual beads from Tory.
• A descriptive card and actual piece of properly baked translucent Fimo polymer, so you can make sure your baking set-up is working right.
• A descriptive care and actual piece of properly made and finished Imitative Ivory, to see what it is really supposed to look and feel like.
All in one package. Please allow two weeks for fabrication and shipping, so Tory can assemble your collection and make sure each piece passes her criteria for sending off as a teaching example.
Share