Complete Tory Hughes Workshop in a Box!
$

425.00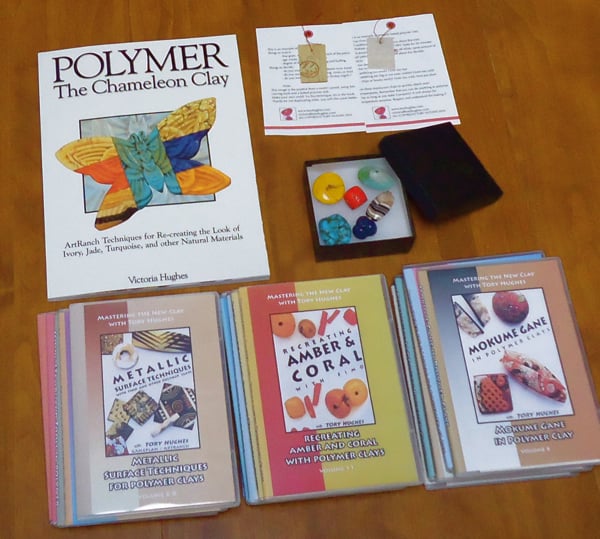 Includes:
• "Polymer, the Chameleon Clay" Comprehensive introduction to polymer and to the imitative techniques, including those not covered by my DVDs. I'll autograph it for you too!
• "Mastering the New Clay- All 15 volumes of the DVD set, the classic videos. You sit right there, in front of me, as I tell you everything you need to know to solidly master polymer and expand in your own direction.
and- drum roll here-
• THE BEST! I've made you an array of SIX POLYMER IMITATIVE BEADS, like those shown here: real amber, coral, lapis, turquoise, agate, and jade. Everyone's collection of actual beads is different, and all come right from me to you. Same quality as in permanent museum collections like the MFA Boston, the Museum of Art and Design in NYC, and the Racine Art Museum.
Special extras:
• An actual example of properly baked translucent polymer to calibrate your oven. Thermometers are not reliable for polymer's temperature sensitivity. This is.
• An actual example of properly made, baked, and finished imitative ivory in polymer, so you never have to worry if you are doing it right.
Plus
• Email backup for the first six months or so. You ask questions and I answer. Tech support for art, how cool is that?
Shipping in the US is $14. Canada and Mexico, $29. Europe, Australia, Hong Kong, South Africa, and everywhere else is $49. All are sent priority mail, so between 3-7 days depending on where you are.
ps: This makes a great gift, in case someone you know needs a hint.
Share