Trizact Sanding Belts for Polymer, as mentioned in Chameleon Clay book.
$

24.00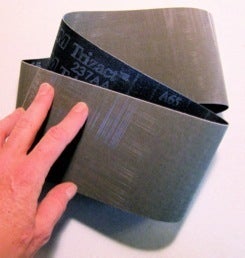 These new sanding belts are 4" by 36' on a continual loop.
They fit on the Woodtek tabletop belt sander, also pictured here, that I discuss in "Polymer, The Chameleon Clay".
> I do not sell the belt sanders! I purchased mine at Woodworkers' Supply. They do not sell these sanding belts however, and are unlikely to find them for you. These are not a woodworking sanding belt.
Trizact sanding belts are designed to smoothly sand plastics and polymers. The abrasive surface arises from tiny pyramids of material fused onto the cloth backing, as opposed to the grit of traditional sanding papers. Your polymer will be smoothly and effectively sanded. Power tools, yes!
I sell these individually since I recommend them, use them myself. They can be hard to find, and I order them in quantity to provide them to you. If you can't find them elsewhere, you can get them from me here. The belt sander and this sanding belt make an enormous difference in the speed and creativity with which I can approach my polymer art.
Go wild!
Share